COMPACT MODULES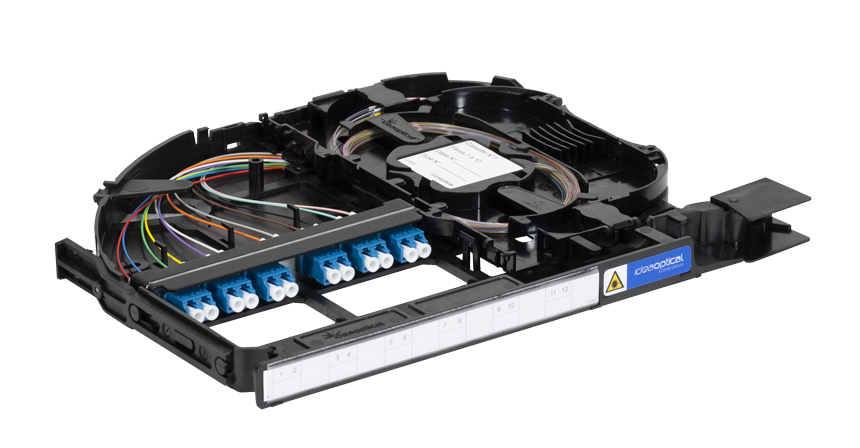 The compact modules fit into the entire range of Idea Optical distribution frames. The various configurations offer a wide range of connection possibilities for all types of fibre optic networks.
The modules are designed around a pivoting axis, with a quick opening/closing device. They are available in right- or left-hand pivoting versions.
Easy access to the splice tray and connectors facilitates installation and maintenance. The fibre protection tubes, coming from the breakout boxes, are anchored on a multi-pin directly in the tray.
iMER-C-12-V2
COMPACT SPLICING AND CONNECTION MODULE
The iMER-C-12-V2 can be used to splice 12 optical fibres from a pigtail cable and to perform cross-connection using patch cords.
iMES-C-12-V2
COMPACT SPLICING MODULE
The iMES-C-12-V2 is used to splice optical fibres in continuity or to connect fibre ends to half-patch cords for the cross connection or connection to active equipment. Each module is equipped with a 12-position splice tray.
iMRS-C-12-V2
COMPACT CONNECTION MODULE
The iMRS-C-12-V2 is used to cross-connect optical cables. The internal cabling of the module is done by micro breakout cable or patch cords.
iMRS-C V2 MTP®
MULTI-FIBRE CONNECTION COMPACT MODULE
The iMRS-C V2 MTP® is equipped with a fan-out of 8, 12 or 24 MTP®-SC or MTP®-LC pre-installed fibres. The connection is made directly to the MTP® connector inside the module. This version is ideal for Datacentres.
« MTP® » a US CONEC trademark. The MTP®connector is an MPO-family connector as defined in the IEC-61754-7 standard.
Light


Pivot


Right/Left Hinge


Serial number


Stackable

Product benefits
Designed around a pivoting axis
Available in right- or left-hand pivoting versions
Easy access to the splice tray and connectors facilitates installation and maintenance
You have a question ?
relative to the product « COMPACT MODULES »