iBER-803-RES-COM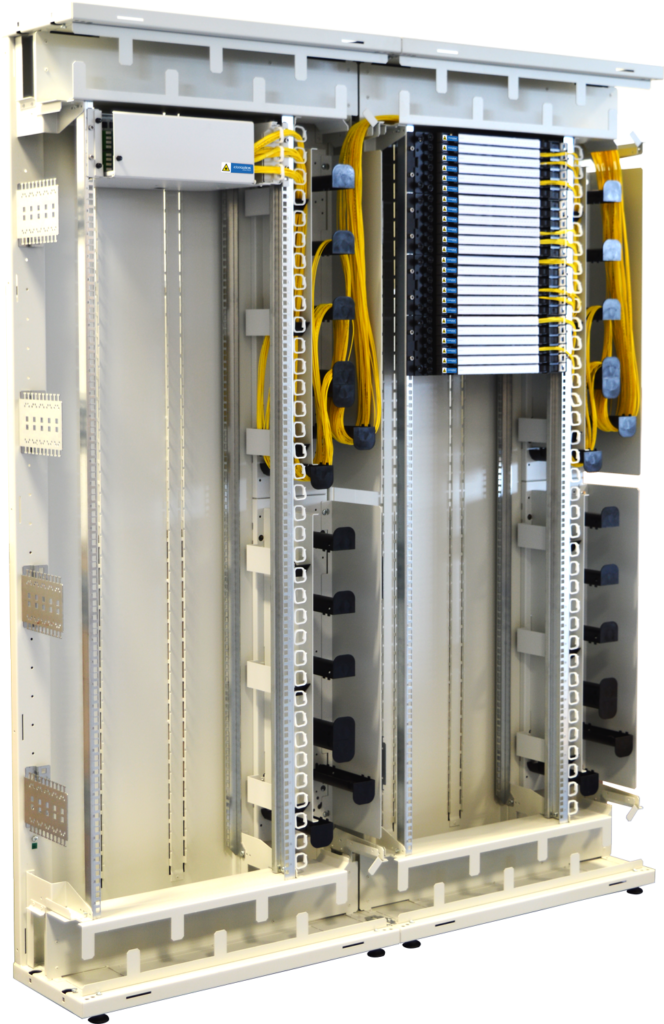 The iBER-803-RES-COM is an 800 × 300mm optical distribution frame, with a height of 2.0m or 2.2m, for all types of equipment in 19″ format. The frames are juxtaposed to form an indoor optical distribution frame. In compliance with the regulations in force and adapted to the management of high density optical fibres, the iBER-803-RES-COM is therefore particularly suitable for modular use of NRO/RTO type.
The iBER-803-RES-COM is equipped with a vertical cylinder management area, in right or left position, allowing easy cross- connection of optical patch cords inside the distribution frame. The distribution frame has two cable raceways, at the top and bottom of the frame, allowing horizontal communication between several adjacent distribution frames.
It accommodates all types of 19″ racks pivoting on right or left, including iTOM racks, iRCP splitter racks and active equipment return racks. Its structure can accommodate all the anchoring and fan-out devices in all capacities, such as BEC type elements.
Anchoring


Direct front access


Management system


Overlenght Management


Top/Bottom cable entry


Width extension

Product benefits
1 vertical cylinder management area, in right or left position
2 cable raceways, at the top and bottom of the frame, allowing horizontal communication between several adjacent distribution frames
Optical Connection Node (OCN) for FTTH networ
Meet Me Room (MMR) for Data centre
Une question ?
relative au produit « iBER-803-RES-COM »