CONSUMABLES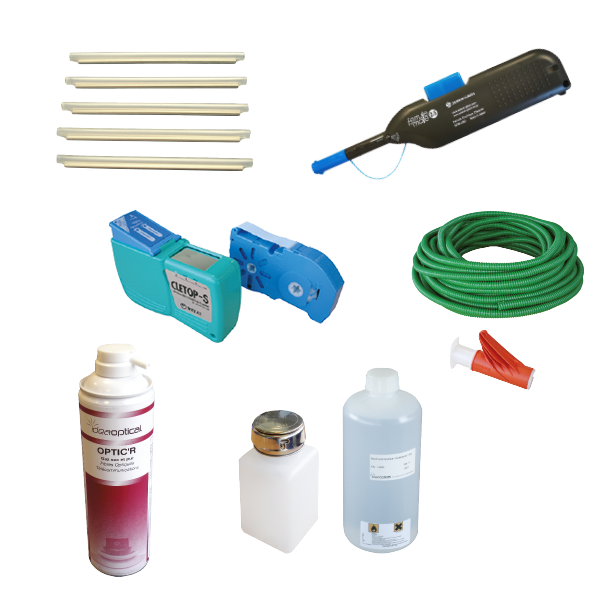 Transparent thermo-retractable splice protectors, length 40, 45 or 60mm. These take bare fibres of diameter 250 μm or sheathed 900 μm. The final diameter after drawing is 2.4mm. Packet of 100.
Also available in colour (ask us for details).
Pens enabling dry cleaning of optical connector ferrules directly through an adapter. They eliminate dust and pollutants which affect the performance of optical connections.
The cleaning process involves pressure on the ferrule, and a distinctive click indicates that the operation is complete.
The pens come in two versions, 1.25 and 2.5mm, suitable for all types of connectors (PC or APC) and each one can clean up to 525 times. Tip adjustable up to 45°.
ISOPROPYL ALCOHOL AND DISPENSER
Isopropyl alcohol is used to prepare the optical fibres before splicing and to clean the optical connectors.
1 litre bottle.
The dispenser makes it possible to control the quantity of alcohol dispensed. Its bayonet closure prevents any risk of leaking during transportation.
20 cl dispenser.
CLETOP
Cletop is the essential tool for dry cleaning optical connectors. It is used on connectors with ferrules of 2.5mm (SC-ST- FC-E2000) and 1.25mm (LC-MU) and eliminates dust and pollutants which affect the performance of optical connections. Each Cletop contains 1 cleaning tray which can perform up to 400 operations.
OPTIC'R DUST-REMOVING DRY AIR
99% pure dry gas designed to eliminate dust from connectors, connections, optical welders.
400 ml aerosol – without CFC.
SPLIT CORRUGATED PROTECTION TUBE
The split corrugated tube is used to protect the optical cables in the cable trays before they enter the connection devices. It is available in green or black.
Int./ext. diameter.: 18 / 22mm.
Supplied in a 30 m loop.
The insertion tool facilitates introduction of the cables into the tube without risk of jamming or bending.
Product benefits
Tools and products to facilitate quality work
You have a question ?
relative to the product « CONSUMABLES »